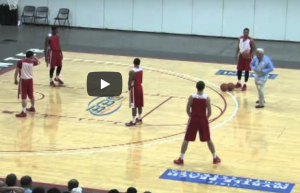 This post contains a videos of a defensive drill from North Carolina's Roy Williams.
Make sure your sound is on as you watch.
All videos are You Tube videos.
Make sure that you are on a server that allows You Tube access.
You can make adjustments to the rules and requirements of the drill that fit your team.
If you are interested in finding out more about the DVD that the video sample came from, click here:
Roy Williams: Breakdown Drills for Individual and Team Defense
You might not want to run this drill exactly as Coach Williams does, but it might give you an idea to repurpose something that you use, or take his scheme and tweak it to meet your philosophy or defensive rules.
Mine Field Drill