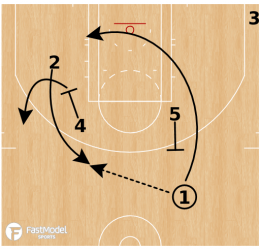 Man to man plays from the Boston Celtics. The plays were contributed by Austin Anderson to the FastModel Sports Basketball Plays and Drills Library.
You can also find out more about FastModel Play Diagramming software by clicking this link: FastDraw
Austin recently completed an internship with the Charlotte Hornets as a video scout intern where he assisted the video coordinators with opponent scouting and game planning.
Anderson was also responsible for opponent personnel edits, databasing free agents, and building a video playbook, along with player development workouts and team practices.
He also served as at Delta State as a Graduate Assistant and at UMPI as an Assistant Coach and Recruiting Coordinator.
Here are the comments that Austin made about the play.
Boston Celtics – Princeton Set.
This offense is designed to get players moving and to keep the defense engaged.
There are opportunities for backdoor looks, catch/shoot looks, a post up, and ultimately a 1-5 high pick and roll allowing Boston's guards to create.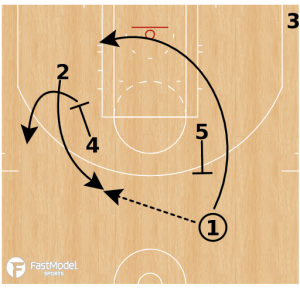 4 pins 2 who receives pass from 1.
1 then cuts off 5's back screen.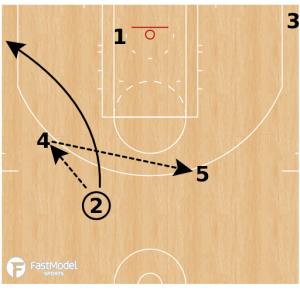 2 hits 4 and cuts to strong side corner.
4 swings ball to 5.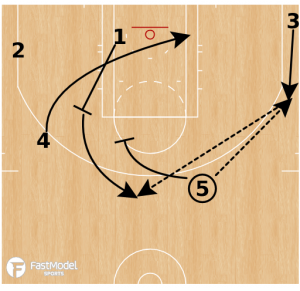 5 swings to 3
1 sets rip screen for 4,
1 cuts off 5's pin down to catch at top of key.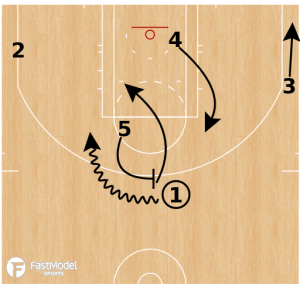 Play finishes with a 1-5 high pick and roll with 4 replacing.
Play #2 Stack Ball Screen Flare
Boston Celtics quick hitting ATO action designed to get Jaylen Brown, Marcus Smart or Jayson Tatum open on the wing for a shot or drive opportunity.
5 pins 2 into a high pick/roll with 1.
1 off 2. 5 flares 2.
The play was originally posted in the FastModel Sports Plays and Drills Library.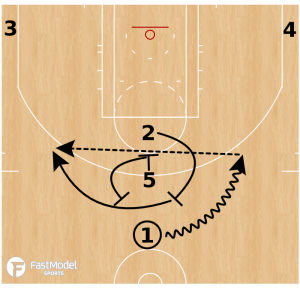 5 screens for 2, who sets ball screen for 1.
5 then turns and sets flare screen for two.
1 throws back to 2 for shot or drive.