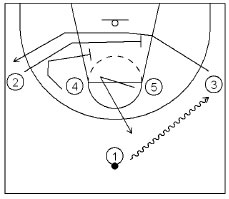 This play was contributed by Creighton Burns.
He has made coaching stops in four states including Georgia, Indiana, Kentucky, and Michigan at both the high school and college levels.
Coach Burns has coached both Men and Women.
Creighton has received numerous coaching honors including Indiana Basketball Coaches Association Coach of the Year in 1988.
The name of this play is Greece Chase.
#1 "dribble chases" #3.
#2 and #4 move down to the baseline to screen for #3.
#5 fakes as if to screen away and then fills the point.
#1 passes to #5 and down screens for #2.
#5 has the choice of passing to #3 on the back side or passing to #2 coming off the down screen set by #1.
Regardless of which wing #5 passes to, he will down screen away from his pass for #1.
If #5 makes the pass to #3, he will down screen away for #1.
#3 will look inside to #4 and then high to #1 coming off the screen.
If #5 makes the pass to #2, #1 will cross screen for #4 and then receive a down screen from #5.
#2 will look low to #4 and then high to #1
When #1 receives the ball and then swings it to the opposite wing, he will down screen for the back side post player.
In this diagram he has swung the ball to #3, and screened down for #4.
The offense is now set and ready to execute the "hi-low" action.