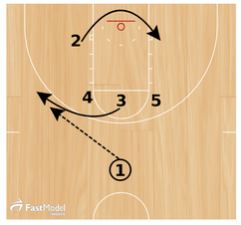 This week's X and O post is a man to man quick hit from North Carolina State Graduate Men's Graduate Assistant Ben Asher in the FastModel Sports Basketball Plays and Drills Library
The site has thousands of drills and plays that have been submitted by basketball coaches from around the world.
You can also find out more about FastModel Play Diagramming software by clicking this link: FastDraw
H Stack
3 can pop out on either side and use 4 or 5 to get open.
2 will go opposite of side 3 pops to.
Option 1: 3 will dribble hard toward the baseline.
On his dribble, 4 and 5 set a stagger for 2.
3 can finish at the rim or pivot back to find 2 off the stagger.
Option 2: 4 and 5 can set a shocker screen where 4 slips and 5's screen is used.
5 will roll and 4 will come back up to replace.
Frame 4: As 3 comes off the ball screen from 5, 1 sets a pindown screen on 2 in the corner.
3 can :
A. turn the corner hard to drive it.
B. Hit 5 on the roll.
C. Hit 2 off the pindown. or
D. Throwback to 4 on the roll and replace action.