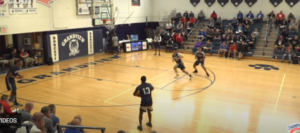 This video is with with Lennie Acuff, Head Men's Basketball Coach at Lipscomb University.
He calls it Georgia. I am not suggesting that you run it as is, but that his movements might give you some ideas that you can use in your secondary or half court offense.
At the end of the video he also quickly mentions his "red" concept that helps to reorganize them if they have gotten out of sink during the possession.
You will need to be on a network that allows you to access You Tube to view the video.
Click the play arrow to view the video.
There is narration with the video, so please make sure that your sound is on.
You can find out more about the Championship Productions video that this clip is from at this link: Effective 5-Out Actions, Counters, & Reads.
The video with Coach is available in both DVD and online format.
Click the play arrow to start the video.