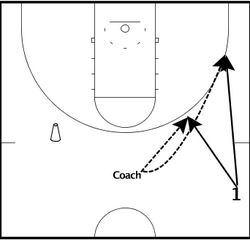 This drill was posted by Coach Tom Kelsey in FastModel's library. The library has hundreds of plays and drills from coaches all over the world and from various levels of coaching. You can check them out here:
Fast Model Plays and Drills Library
Tom Kelsey is currently the Director of Basketball Operations for the LSU men's basketball program. He has been a small college head coach, winning multiple coach of the year honors.
He has also spent time on the coaching staffs of Don Meyer and Mark Gottfried.
Drill #8 Frame 1
Gives player opportunity to shoot 3's for late game situations. Either off the pass or off the dribble. Coming down late in the game and getting the shot off the run or shooting off the dribble going full speed into shot.
Drill #8 Frame 2
This is a late game shooting situation. Player is running at full speed catches the ball and tries to get to the top of the key or clutch shooting spot on the wing for a spot up 3 point shot.
Allows your players to think about getting the shot quick coming down the floor off the pass or off the dribble.
Drill #7 Frame 1
Receive pass from coach take one dribble hit coach with the pass and make a v-cut away from the pass. With a strong step on the outside foot come back toward the ball hands up, finger tips to the ceiling and call for the ball.
Drill #7 Frame 2
Have players to pretend to be coming off a screen for the jump shot and receive the pass back from the coach.