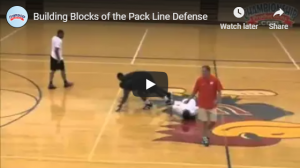 This defensive drill is used by Coach Jim Boone in his packline defense.
Coach Boone has won over 450 games at the Division I and II levels and is considered to be on of the top Pack Line Defense Coaches.
The drill requires players to get 3 defensive stops in a row against the other players in the group.
Even though you can't be as physical in games as they are in the drill, I do like the point of teaching to get up into the dribbler and making him or her uncomfortable.
You could also play the drill so that a player must stay in until he or she gets 3 consecutive stops.
To learn more about the entire DVD that this sample came from, click here: Building Blocks of the Pack Line Defense.
Anyone who purchases anything from the store receives one of my basketball coaching eBooks as a bonus. Just email me and let me know which one you would like to receive!
Click the play arrow to see the drill.