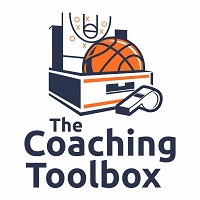 These 3 end of game checklists were sent to me by Steve Smiley.
They were assembled by former long time NBA Assistant Gordon Chiesa.
He spent 16 seasons with the Jazz and also had a tenure with the Grizzlies.
He also served as a college assistant at Dartmouth and Providence. He was the head coach at both Manhattan and Providence.
He was an assistant with team that reached both the NBA Finals (1997 and 98 with the Jazz) and the NCAA Final Four (1987 with Providence)
OFFENSIVE QUESTIONS/CONCEPTS
Best

offensive team

when our

team

is losing.

Best foul shooting team

when our team is winning.
Best

ball handling team when

protecting a lead.

Best three point shooting team when

our team needs a "Three."
Best individual match-up to

score

a

basket/create

a

foul.

Which

opposing player

is in

deep foul trouble,

and our offense can go directly at him?
Who is our

best inbound passer

? Who is our

2nd best inbound

passer?
What

side

of the

floor

, when inbounding from the sideline do we prefer?
Know/Understand with

how much time left

on the game clock, and the

score is tied

, when should the offensive player take the shot?
Know/Understand  that the

defense

is going to switch-out of any screening

action regardless of size

The

sceener

should look for a slip move as he starts setting the screen. The passer has to be ready to "Read

and Pass

."

Know/Understand

that when

the opponent has a foul to give

and our team has

used our last time out,

the Head Coach,

during that time out,

has to give our team

two offensive plays to execute

.
DEFENSIVE QUESTIONS/CONCEPTS
Best

defensive team

when our team needs one defensive stop (under 7

seconds

on game clock)?

Best defensive team to contain dribble penetration

Best

rebounding team w

hen the

opponent goes big?

Best "Comeback"

Defensive Team

by

trapping/presses

creating

havoc defensively

?

Best zone defensive team to take away the opposition

set offensive plays?

Be ready to match-up small to defend the opponent's 4 or 5 man who can make three point shots,

Know and understand

the concept of staying home on 3-point shooters on dribble penetration.

Know and understand how to foul

on the

catch

before the shooter goes into his

shooting motion

Be ready to

sub out

a

key offensive scoring player who has four fouls

and 'sub

In"

a "designated

fouler.

" Teach the designated fouler that he is making a positive contribution towards winning. We are not trying to embarrass him.

Know/Understand

that when

the score is even or our team Is up one or

two, we will

early double team or create a running trap situation

against the "

star perimeter player"

in the scoring area.

Philosophically

we are not

going to let

the star perimeter player beat us with a basket or create a foul. We are going to make him pass the bail to a lesser offensive threat. Also,as an alternative, we could

play a zone defense on the last possession against the star player.



END OF GAME CHECKLIST
Know

the score of the game and the time left on the shot clock and game clock.

Know

the

timeout situation

for

both teams

The Head Coach will tell the players the team foul penalty situation from both an offensive and defensive standpoint. The players will always know if we have a foul to give.
Know/Understand when to call

timeout

by a Player who is not involved with the ball when his teammate is in a

bad disadvantage.

Who are the

worst foul shooters

in the game?
Who are the worst foul shooters not in the game in case of an

injury situation.

and the opposing team

can choose

the new shooter?
You can also download 13 of my 130 Situations eBook. Click this link to read a sample of the ebook.