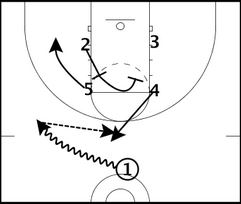 This play was in the Fast Model Plays and drills library
The play was posted by Coach Lason Perkins.
He saw it while watching Japan play in the FIBA Asia Championships.
I have also included more links to other diagrams of plays at the bottom of this post.
Coach Perkins has worked at the high school, college, and semi-pro level for over 20 years.
He is currently the Head Boys Basketball Coach at Cary Academy in North Carolina.
He has created over 20 instructional videos and 5 books on basketball offenses.
He has built a reputation for being an expert on international offenses and styles of play.
#1 dribbles to the side as #2 back picks #5.
#2 continues over and screens for #4.
#1 reverses to #4.
On the reversal pass #3 and #2 set a double cross screen for #5.
#4 dribbles to get passing angle for post feed.
#3 clears as #4 screens for #2 coming to the top