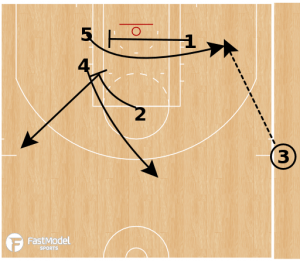 This Boston Celtics sideline inbounds play was contributed by Timothy Hipps to the FastModel Sports Basketball Plays and Drills Library.
You can also find out more about FastModel Play Diagramming software by clicking this link: FastDraw
Timothy Hipps is an assistant coach at Central High School in Capital Heights, MD. He is also the founder of Math-n-Basketball Academy, a youth basketball organization that also offers academic support to players.
Coach Hipps uses basketball statistics, scouting reports and game technology to integrate sports with mathematics and literacy in Maryland public schools. While coaching at amateur levels, he has sought to adapt NBA actions and offenses for youth and high school teams.
Hipps is adamant about offering professional preparation, collaboration, and effort at the recreational and interscholastic levels. While a head basketball coach at the interscholastic level, Hipps' teams won 3 league championships in five seasons.
You can follow Timothy on Twitter @mathnbasketball.
This is what Coach Hipps said about the play:
A nice ATO SLOB set run by the Boston Celtics in Game 2 vs the Milwaukee Bucks in the 2018 NBA Playoffs.
Great for a team with post players who can pass out of the post.
Boston Celtics – Cutback SLOB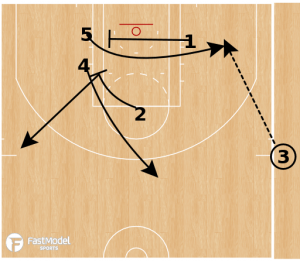 3 inbounds, 4 and 5 are stacked up on weak side block.
1 is on strong side block with 2 at nail.
2 sets down screen for 4 to catch at top of key.
Option for 4 to DHO with 2 (not shown).
Primary look is to 5 in short corner after receiving screen from 1.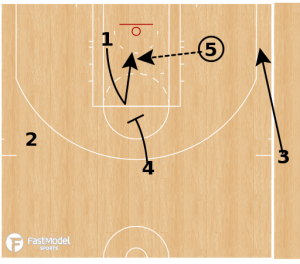 4 sells down screen for 1, who fakes coming off for shot.
1 rejects screen and backdoor cuts to basket for layup.
Boston Celtics – Stagger BLOB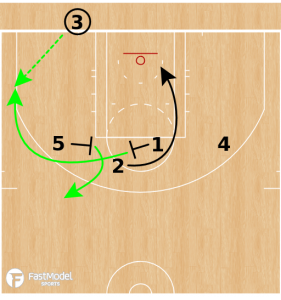 1 back screens for 2, who dives to basket
5 screens for 1
3 inbounds to 1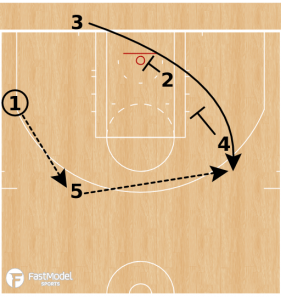 1 passes to 5
2 and 4 set stagger screen for 3