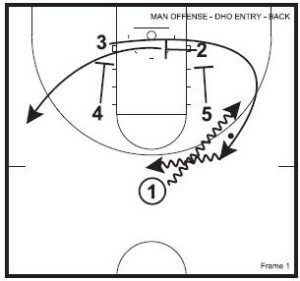 This play is a quick hit to run against a man to man defense..
It is from an old Xavier Men's Basketball Newsletter.
If you are interested in subscribing to their newsletter, you can do so at this link: Xavier Newsletter
Diagrams created with FastDraw
3 comes off stagger from 2 and 5 to use the dribble handoff from 1
2 uses downscreen from 4
3 passes to 2 and uses the backscrreen from 5
5 follows the backscreen with a sideline ballscreen for 2.
4 backscreens for 5 on the roll.