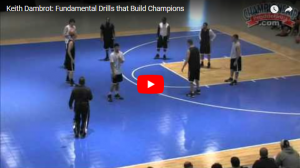 This basketball drill to work on both trapping the basketball and passing out of a trap is being demonstrated by Keith Dambrot, Head Coach at Duquesne.
In the video, Coach Dambrot credits Shaka Smart as the coach he learned the drill from.
If you like to make your drills competitive, one way to make this drill competitive is to score deflections and turnovers.
The video is a YouTube video.
The Circle Trap drill can be used by college teams all the way down to youth camps and clinics to teach passing skills.
I have a list of links below to other skill development drills that are posted on the site.
Make sure your sound is on. The video is three and a half minutes long.
Click the play arrow to watch the video.
If you are interested in more information about the DVD that this sample came from. click here: Fundamental Drills That Build Champions