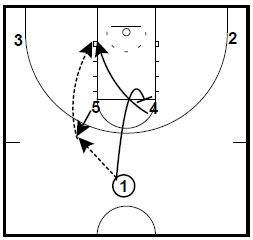 These two horns sets are from Fred Hoiberg's Iowa State offense. They are included in the Ultimate Horns Playbook.
Iowa State Horns Hi/Low #2
Diagrams created with FastDraw
5 steps out and receives the pass from 1.
1 cuts through the lane and quickly turns around to screen for 4.
4 cuts to the lane looking for the pass from 5.
If 4 isn't open, 1 loops around 5 for a dribble hand-off and looks again for 4 posting up.
If 4 still isn't open, 5 steps out to set a ball-screen for 1.
1 drives to the lane.
5 rolls to the basket and 4 replaces up the lane line.
Iowa State Horns Post Entry
1 passes to 5 at the high post.
Once 5 has the ball, 4 and 1 set a staggered screen for 2 in the corner.
2 cuts up for a shot as 4 cuts to the basket.
If 2 isn't open on the initial cut he can loop around 5 for a hand-off.
Once 2 has the ball he looks to drive to the basket or kick out for an open 3-point shot.