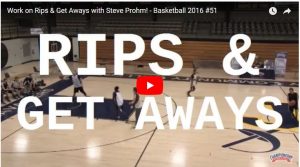 These two skill development videos are with Iowa State Men's Coach Steve Prohm.
The purpose of the post is not to evaluate the footwork of these players in the video.
It is probably the first time they have done the drill.
They are there to demonstrate the drill.
As a coach, it is up to you to teach your players the proper footwork to be quick without traveling in the drills and then carry that over to games.
The video is a YouTube video so make sure that you are on a server that allows YouTube access.
If you are interested in learning more about the DVD that this sample was taken from, click here: Steve Prohm: Offensive Skill Development and Attacking Man & Zone Defenses
Make sure your sound is on.
Click the play arrow to see the drills.
Rips and Get Aways
Click the play arrow to see the drills.
Transition 3s