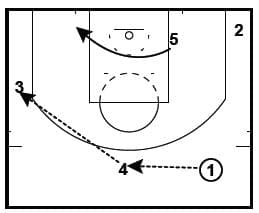 Two man to man sets, one from the Atlanta Hawks Mike Budenholzer and the second from Tyronn Lue of the Cleveland Cavaliers.
The plays are included in the Basketball HoopScoop's Atlanta Hawks Playbook & the Tyronn Lue Cleveland Cavaliers. The eBooks were assembled by Gibson Pyper.
You can learn more about the bundle by clicking this link: Hawks and Cavaliers Playbook
Diagrams created with FastDraw
Hawks Strong Horns Slip Stagger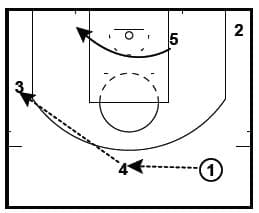 1 passes to 4 who reverses to 3.
5 cuts to opposite side.
1 & 4 set double screen for 2.
3 passes to 2.
2 passes to 4 at the elbow.
5 & 2 set stagger away screen for 3.
2 slips the stagger screen to the rim for a layup.
The other option is for 4 to hit 2 coming off the double screen.
Cavaliers Elbow Series Rice
1 passes to 2 and cuts off a UCLA screen from 4.
4 steps out and receives the ball from 2.
1 continues across the land and sets a flex screen for 3.
5 sets a wide down screen for 1.
4 has the option of passing to either 3 or 1.
If 1 does not have a shot, 5 turns and sets a ball screen.
You can learn more about the bundle by clicking this link: Hawks and Cavaliers Playbook