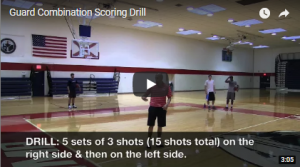 This drill called Combination Guard Scoring Drill is among the thousands of resources for both coaches and player available from basketballhq. They have several more videos as well as basketball coaching resource articles.
Please make sure your sound is on to see the video.
Click the play arrow so see the drill. The drill is a YouTube video, so you will need to be able to access YouTube to see the drill.
The coach in this post is Darnell Archey, former Butler player and Assistant Coach, and currently the head coach at the University of Mobile.
If you use this drill, you will want to include the types of actions that lead to shots in your offensive system.
In this drill, the 3 types of shots the players take are
1) Ball Screen Read (You can change the read for each of the five shots, or make the same read on each shot. In this example, they are reading as though the defense is icing the ball screen.
2) Dribble Hand Off
3) Screen the screener action (You can run this from other spots on the floor where you run sts actions)
15 shots on the right side (5 shots from each of the 3 actions), then 2 free throws, and 15 shots on the left side of the floor.
Combination Guard Scoring Drill