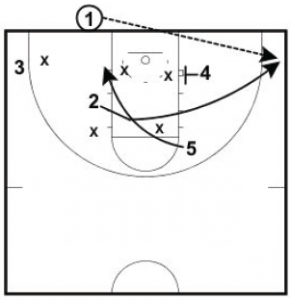 This play is from the Arizona Basketball Coaching Newsletter.
It is an inbounds play to run against a 2-3 zone.
If you would like to be added to their monthly basketball coaching newsletter.
I need your name, coaching position, and school and I will forward it on to their Director of Basketball Operations.
I have also listed some links to other under out and side out inbounds plays at the end of this post.
I have several playbooks available in bundles of 4 for $35. You can make your selections here: eBook bundle pricing
When the official gives the basketball #1 , #3 goes beyond the arc in the ballside corner.
#4 goes to short corner opposite the basketball
#4 screens in for #2 who cuts to the corner opposite the ball
#5 cuts to the block in front of the ball.