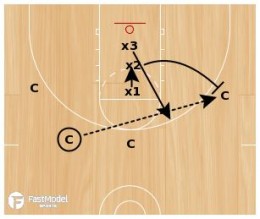 This defensive dill was posted in the FastModel Sports Basketball Plays and Drills Library by Kyle Gilreath, Assistant Basketball Coach at Fort Myers (Florida) High School.
Kyle previously served for five seasons as an undergraduate manager and graduate assistant for Billy Donovan at Florida.
You can also find out more about FastModel Play Diagramming software by clicking this link: FastDraw
The drill works on players closing out to their help positions when the player they are guarding does not receive the basketball.
You can apply your defensive rules and make any adjustments to make the drill more like your games.
This is a good way to practice skills involved in defensive rotations so that your team has organized defensive rotations and not chaotic defensive scrambles.
Players start on whistle slapping the floor and footfire. On the pass they close out to where they should be in conjunction with their man and the ball.
The offense can pass the ball around but do not add dribbling yet.
x2 is guarding the coach who catches the basketball, so he closes out on the basketball.
x3 is guarding the coach at the top and closes out into the passing lane (or help gap depending on your defensive scheme)
x1 is guarding the player on the help side and closes out to the midline.
Make sure the defensive players rotate so they aren't always closing out to the same player.
The second diagram shows the rotations if ball is passed to top.
The defensive players are guarding the same players, so they have different responsibilities when the ball is passed up top. Again, rotate so that all players are guarding different positions and practicing closing out to all spots.
The final diagram shows the rotations when ball is passed to left wing.