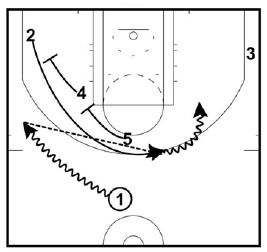 This play was submitted by Seth Kravig.
At the time he submitted the play, Coach Kravig was the Assistant Men's Basketball Coach at Trinidad State Junior College in Trinidad, Colorado.
Here is what Seth says about the play: "This play is an after the timeout (ATO) play that can be run with a number of options – it is a good counter to the loop action.
It can be an effective play when 4 is a good shooter and play maker and if 1 can be a post up threat."
1 dribbles over to the left side of the floor as 2 loops off 4 and 5's staggered screen for clear out to the top.
4 or 5 look to slip their screen if their man cheats to help 2's man…
If 2 does not have an iso opportunity, he dribble handoffs to 3 on the wing and fills the strong side corner…
As this occurs, 1 slices off 5 to the block…5 then turns to pin down on 4 for jumper.
On 4's catch, if he does not have a jump shot, 5 then turns to set a screen on 1 at the block.