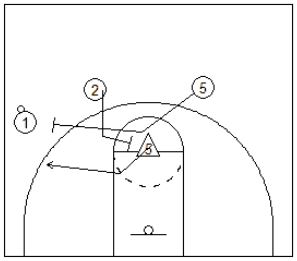 Chalkboard Strategies To Setting a Great Ball Screen
By Brian Anglim Fundamentals First Basketball.
In the last couple of Fundamentals First Basketball Newsletters, I have been writing about developing motion offenses. A common failing (in my opinion) amongst motions coaches is utilizing the ball screen. To maximize the effectiveness of the ball screen the angle of the ball screen, timing of the action, and spacing must be perfect.
The free flowing action of motion offense does not allow teams to set up the correct spacing and angles to really take advantage of the pick and roll game. With that said, I think every coach regardless of what system they run must have some sort of ball screen set. You will find there are opponents where one of their post player's is poor at hedging or trapping in a ball screen action. This allows you to expose that players weakness and potentially get them in trouble. I also feel like there are teams that have too much quickness where you can't create penetration from the normal flow of the offense and a ball screen can open things up for you. As a motion coach I had a transition call and 2 set play call's that utilized a ball screen and then allowed us to flow into our motion offense.
What I want to talk about in the next two articles are some strategic ideas of creating plays that make life difficult for the 2 defenders. The key to defending the ball screen in my mind is the screener's defender has to offer some sort of help to allow the ball handler's defender to recover back to his man. I want to make life difficult for that screener's defender so he is late in getting out on the pick to hedge or trap, so that we have a great opportunity to turn the corner and get into the lane. Here are four simple plays that put stress on the hedging defender.
Screen the Picker Action
Below we have a simple diagram of a down/cross screen but we really aren't trying to get the cutter open (player 5) for a shot, rather make it difficult for X5 to be able to get into position to get on the high side shoulder of the pick and hedge. With the screen diagrammed below X5 has to under the screen, or he would be very susceptible to the curl cut. He thus can't get out on the floor and help on the ballhandler attacking the paint.
Post Exchange
Here is another play where we have the post player's execute a diagonal down screen. The reason I really this is that I would have 4 coming down to act as if he is going to pick for 1, but he is really faking the pick and slipping down the lane to ball screen. This creates confusion for X4 and doesn't really allow him to get into position to help bump 5 cutting up to set the pick. i also like this because we used to have a pick and roll big man and a pick and pop big man and we would want to exchange them for different reasons.
Carolina Pick
In the action below we have 1 passing to 2 on the wing and cutting to the opposite corner (opening up the middle for the driving action). As he is cutting through the middle 5 (most likely the trailer) cuts right off his ass to get in position to set the pick. You would be surprised how much contact you can get away with when you are cutting together versus screening .