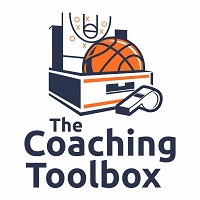 This is a quick ball screen isolation set for our 2/3 player when we feel they have a slow defender.
Coach Vonn Read has submitted several plays from his playbook series The Basketball Encyclopedia of Plays to the Coaching Toolbox.
Coach Read has also served as an assistant coach in the WNBA with the Phoenix Mercury, Orlando Miracle, and San Antonio Silver Stars.
He was an advanced scout for the Orlando Magic as well as The Charlotte Sting.
We start in a stack set and pop our guards out to the wing.
The 3 player then spots up in the corner and the 1 player cuts to the opposite wing.
This is a fake double ball screen play used to take away the help when we refuse the ball screen and drive for the layup.
Both the 4 and 5 players will sprint to set the fake ball screens.
The 4 and 5 players sell the ball screen, which takes away help defenders at the basket.
The 2 player will reject the ball screen and drive for the easy layup, especially if X2 bites on the ball screen.
If X3 helps, we kick it to our shooter (3 player) in the corner.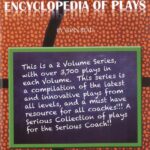 Coach Read has also put together The Basketball Encyclopedia of plays. You can check them out here: The Basketball Encyclopedia of Plays or read more about the books:
Any coach looking for the latest and innovative plays from the Professional, College, or High School levels can stop looking. With a compilation of over 7,700 different plays, you will never need to purchase another basketball playbook again. These playbooks can be used as a great reference tool for years to come. This 2 Volume Book includes plays from 19 different play categories, and they are the most extensive playbooks on the market.
The Basketball Encyclopedia of Plays (Platinum Series) contains over 7,700 Plays (Both Volumes combined) from the NBA, WNBA, USBL, and College levels from someone who has worked as an Advanced Scout or Coach on each level!!! This book has been intensely compiled over the last 21 years, with plays taken from a lot of NBA Coaches (past and present), WNBA coaches, and College coaches (Men's and Women's) from around the country.
Any coach that is serious about improving their knowledge of the game from an X and O standpoint will benefit tremendously from these books. These Books can be used to discover New Quick hitters, add a New Package to your playbook, or develop an entire Offensive System. There are a lot of new ideas and concepts in these books to study, and the Basketball Encyclopedia of Plays can be a great resource for coaches on all levels!!! This book is definitely for those X and O junkies who are always looking to improve as a Coach.
"THE GAME IS ALWAYS CHANGING? ARE YOU?" Vonn Read
Here is the link: The Basketball Encyclopedia of Plays