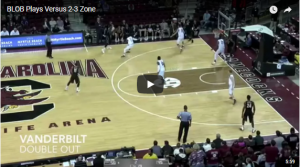 Army Men's Assistant Coach Zak Boisvert has assembled some of his favorite baseline inbounds plays to run against a 2-3 zone defense.
His YouTube channel has several videos with various types of man-to-man plays, zone sets, and inbounds plays. You can subscribe to receive an update when he posts a new video Zak Boisvert You Tube Channel
You can follow him on Twitter at this link: @ZakBoisvert
Click the play arrow to see the plays.
Some plays are shown more than once.
The teams don't always score on the plays, but I hope that you can get some ideas for some cuts, screens, and movements that you might be able to use either in your Under out plays against a 2-3 zone, or adapt them to include in your system of attacking a 2-3 zone.
Coach Boisvert has put together a pdf download. You can download it from this link: 21 2-3 Zone Sets Diagrams