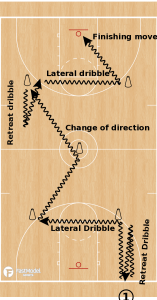 The full court pressure release dribbling drill was contributed by Matt Monroe to the FastModel Sports Basketball Plays and Drills Library.
Coach Monroe is in his third year as the head varsity boys' basketball coach at Saint Ignatius College Prep and his 17th year overall as a basketball coach.
See Diagram Below
• #1 dribbles to the first cone and then performs a retreat dribble.
• After the retreat dribble, #1 dribbles back towards the same cone.
• #1 then completes a lateral dribble to the next cone.
• Once they reach the second cone, they drive hard to the middle cone with their right hand and complete a change of direction move.
• At the fourth cone, #1 completes another retreat dribble and attacks the same cone again.
• They then complete a lateral dribble from the fourth cone to the fifth cone.
• #1 makes a change of direction move at the fifth cone and completes a designated finish around the basket.
You can also find out more about FastDraw Play Diagramming software by clicking this link: FastDraw