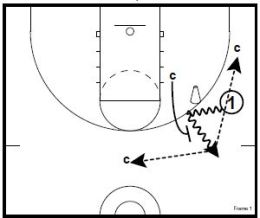 In keeping with a theme of providing drills for the start of practice, I am posting some ball screen breakdown drills that were sent to me by Nate Hill. He is the Assistant Boys Coach at Colonel Crawford High School in North Robinson, Ohio.
He provide a post where a few months ago where he outlined what he believes to be the strengths and weaknesses of five different methods of defending ball screens. Here is the link to that article on 5 options for defending pick and roll.
I think it is important for all coaches to put on paper what you believe the strength and weaknesses are for your specific team for various ways of defending ball screens and attacking those defensive strategies in your ball screen game.
That will help you to more clearly and effectively teach both the offensive and defensive ends of ball screens.
Ball Screen Breakdowns
Diagrams created with FastDraw
Start the drill with:
2 on 0 breakdown. Guards and bigs at separate baskets, working on the following ball screen reads: Hard Hedges,
soft hedges, jam and under, Switch, drops, refuse /ice, Blitz / double team.
Then move to:
2 on 2 Live: Coach chooses from under, hedge, switch, ice, drop, or trap. Offense must read the defense and make
the proper play. Offense goes for 2 minutes and switches spots on the court. Next defensive group comes in and
plays a different defense as instructed by the coach.
Here is a link to a post from a few weeks back for working on Attacking Hard Hedges
Defense Blitz
The defense gives up: pick and pops, slip pass, passes over top screen with bigger guards, slow rotations. Teams can make a pass out of the trap, and a quick extra pass to open players with good spacing.
Blitzing takes away: good shooters and drivers, forcing 1 to make solid pass, and 5 to make a shot / play. Forces players to make passes with weak hands
Double team / Blitz = retreat dribble and pass: Coach/defender double teams the pick and roll. ball handler uses a retreat / pullback dribble and passes to coach. Coach can also incorporate slips.
Double team = SLIP: Defense traps the ball screen, big needs to dive automatically to the rim. Posts vary the finishes at the rim
Under
x1 goes UNDER screen.
The defense gives up: pull up jumpers, turning corner on drives
The defense takes away: screener rolling / slips. force ballhandler to shoot off dribble

Under Screen = race to rim, pull up, rescreen: defender / coach goes under the screen. Ballhandler races defender to the rim, takes pull up jumper, and change directions for a rescreen. Vary your finishes, set up screen with jab or dribble move.


Under Screen = RESCREEN: Defender goes under the screen, the big can RESCREEN and Roll
If you would like to see the remainder of the document and all 5 scenarios, Click Here for Ball Screen Breakdown 2.0