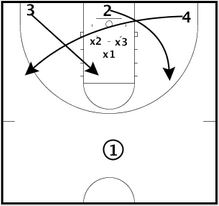 Here is one of our basketball drills that will really help your half court defense.
Getting to three point shooters is important to a solid half court defense.
A drill for working on taking away 3 point shots. My belief is that three point percentage allowed is not a valid measurement of how well you defend 3s and that the best way to defend 3 point shots is to reduce the number of 3 point shots that you allow your opponent to take.
Here is a link to an article to support that belief: Defending the 3 point shot.
This diagrammed drill is based on getting to the shooting and taking away the open three.
It demands great communication, rotation, anticipation, closing out, being there on the catch, vision, blocking out and rebounding with two hands.
If three defenders can successfully defend four players in this drill then your game time defense will shut down any opponent's three point shooting.
This drill was posted by Coach Randy Brown in FastModel Sports Basketball Plays and Drills Library The site has thousands of drills and plays that have been submitted by basketball coaches from around the world.
You can also find out more about their Play Diagramming software by clicking this link: FastDraw
Starting Position for the drill
Four offensive players and three defenders
Option–change starting positions for offensive or defensive players before starting drill
Offensive players can cut into any area on floor.
DEFENSIVE RULE:
1. Must be there on the catch by offense
2. Ball pressure at all times
3. Communication entire possession
4. Two non-on ball defenders protect basket and lay ups
5. Secure rebound with two hands
1 enters ball to 2 and cuts through the lane as other two offensive players move also.
X3 rotates to 2 and is there on the catch. X2 and X1 adjust their positions according to players and basket.
It is KEY that X2 and X1 ANTICIPATE the next pass.
The closest player has to sprint and close out to 4 and be there on the catch to take away the open 3.
X2 anticipates pass to 3 and is there on the catch. X3 and X1 adjust.
Every pass demands communication, sprinting to close out, being there on the catch, and proper defensive floor positioning to take away the basket.
DRILL OPTIONS:
1. When does drill end? You can designate the number of passes, the number of threes taken away, or time.
2. If you set conditions and a defender or defenders violates it, you start possession over.
3. Conditions could include being there on the catch, hand up on closeout, communication re: who has ball, vision, three block outs, rebound the ball with two hands.
4. Can use this as a three man drill or a team drill; i.e.-8 players white and 3 players red.
Coach Brown also tweets a lot of his content. You can follow him here: @CoachRB