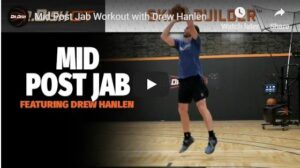 This scoring workout is provided by our partners at Dr. Dish Basketball.
Like all drills that you see, you can either modify it or take parts of the drill for your use and your needs.
Please make sure your sound is on to see the video.
Click the play arrow so see the drill.
These drills are You Tube videos, so you will need to be on a server that allows you to access You Tube to see the drill.
The coach in the video is Drew Hanlen of Pure Sweat Basketball.
Here's the basic progression of moves throughout the workout:
Jab Shot
Jab, 1 Dribble Fade (towards middle)
Jab, 1 Dribble Step Back (towards middle)
Core Shake Jumper (towards baseline)
Reaction Shooting Drill