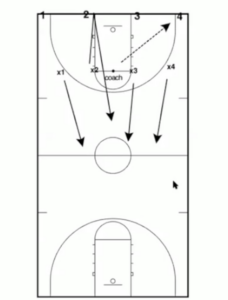 Defensive Conversion Drills with Sasha Anderson, Women's Basketball Assistant Coach at Seattle Pacific University
Anderson is beginning her 16th season on the Falcons' staff following six seasons at the high school level.
Anderson took Snohomish County Christian to the postseason four times in six years, including a state Class B tournament appearance in 2004 and an unbeaten regular season in '05. She also coached volleyball at the high school level.
Coach Sasha Anderson shares a variety of defensive drills designed to teach and reinforce defensive fundamentals in this clinic presentation for the WSGBCA. Coach Anderson also covers rebounding, defensive transition, and mental toughness drills.
We are providing this drill to give you ideas on how to enhance your current practice drills. The idea is not to implement it exactly as is, but rather to tweak it to make it fit your system.
There is sound with the video, so please make sure that your sound is on.
This is a Vimeo video, so you will need to be on a network that does not block Vimeo videos.
If you would like to see more information about Coach Anderson's entire presentation, click this link:
Sasha Anderson: Everyday Defensive Drills