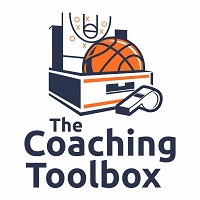 I have always felt that it is important to evaluate a basketball game with the players prior to moving on to the next game.  If we play poorly and I am upset, I try not to say too much after the game so that I can have a chance to watch the video and look at the stats in order to have items to improve upon.  I don't want it to be a blame session or me venting frustrations.
Click here to see a sample pdf of the POSTGAME EVALUATION SHEET that I use.
If we win, we do a cheer, I deliver some sincere praise where it is deserved, and remind that as Dick Bennett said, if we are going to improve, "We cannot accept in victory what we would not accept in defeat," in terms of our effort, our attitude, our unselfishness, and our execution.
I have included a link to the form that I have used to copy and hand to the players when we evaluate the game with them.
Each year is different in terms of our goals, but we are a packline defense program, and a program that emphasizes, playing your role (our best scorers will take most of the shots) shot selection, and not turning the basketball over.
I have examples of what I am talking about on the pdf with the download link below.
Or, you can view it here:
(If you can't see the pdf in a frame, refresh the page.
For shot selection, I use the Don Meyer shot rating system.  We rate every shot taken in a game.  4 = power shot or layup  3 =wide open shot (not a shot from beyond the 3 point arc, but any wide open shot) 2 = a decent shot 1 =bad shot 0 = turnover (Take a 3 or a 4 or you're off the floor)
We have cards on the players lockers and they receive stickers after the game for individual performances that benefit the team:
*1.5 Points Per Field Goal Attempt (need to get to the line to get this one)
* Take a Charge
* Big Plays–making the last shot of a quarter, a great individual defensive job, or any individual efforts
that turned the momentum or was a game changing play.  This is the coaching staff's discretion.
* 8 Rebounds
* 5 Assists
* Conventional 3 Pt Play
* Put Back (offensive rebound and basket)
As I watch the video myself or with our staff, I make notes as to the clips that I want our players to see with times so that I can forward to the clips and they don't have to watch the whole video.
We chart deflections, blockouts, and challenged shots.  In our packline defense, the key stat is opponent's field goal percentage, so all of these are critical to keeping that percentage low.  Examples are on the pdf that has a link below.
We break our goals into quarters, so if our goal is to hold our opponent to 44 points, then we want 11 or less points EACH QUARTER.  The same for turnovers.  8 or less per game is our goal, so we want no more than 2 per quarter.  We do go over each turnover and what can be done in the future to correct it.  That is also on the link below.
Finally, with the team that is shown in this example, our Points Per Possession was highest if we had the ball for more than 30 seconds on a possession, so I timed each possession and looked at the Possession percentage for various lengths of time.   I do not do that with every team, but this one needed that to help them play their best.
On the sheet, I have used players numbers rather than names, but use names on what I give to the players.
Click here to see a sample pdf of the BASKETBALL POSTGAME EVALUATION SHEET that I use.