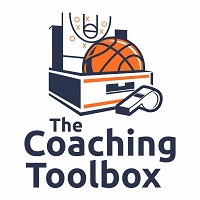 This post is a compilation of some analytics information that supports the belief that the best three point defenses limit the number of three point shots that their opponents shoot and essentially are not consistently effective at forcing low three point percentages by their opponents.
These ideas are from Army Men's Assistant Zak Boisvert's blog PickandPop.net. I have included a link to the specific article at the bottom of this post.
Whether you agree or disagree with that assertion, it is worth taking a look at some of your team's stats over the past few years as well as doing some research online. Then, examining how that equates to your defensive philosophy, what practice drills you do to emphasize that philosophy, and your defensive rules.
Ken Pomeroy (www.kenpom.com) studied the correlation in Men's Division I basketball from the 2010-11 season to the 2011-12 season for the four following categories:
The correlation is based on where each school ranked among all other schools in each category for the two years studied.
(The closer the correlation is .000 there is no relationship–high ranking one year, low the next. If the correlation is 1.00 that means that team would be ranked #1 in that category two years in a row.)
Opponent 3 Point Shooting Made Percentage. .204
Opponent Free Throw Percentage .266
Opponent Two Point Shooting Percentage .558
Opponent Three Point Attempts (Of all Field Goals Attempted) Percentage .575
The Free Throw Percentage "Allowed" had a higher correlation from year to year than did the 3 Point Field Goal Percentage Allowed, indicating that a team's ability to force low three point percentages varies greatly from season to season and game to game. It also provides evidence that teams can affect their opponent's two point shooting percentage as well as their percentage of three point attempts to overall field goal attempts more effectively.
Source "The Badgers Defensive Secret" espn.com (Ken Pomeroy)
Pomeroy did another analytical study of three point defense between 2009 and 2012 in men's NCAA Division I Basketball. He looked at the averages of the worst 20 and best 20 teams in terms of 3 point percentage allowed for games played after December 4 each season.
Again, this is only games after December 4, so the early season non conference games are not included.
| | | |
| --- | --- | --- |
| | Best 20 | Worst 20 |
| 2012-13 | 34.8% | 32.9% |
| 2011-12 | 34.6% | 33.3% |
| 2010-11 | 35.4% | 34.0% |
| 2009-10 | 34.3% | 34.2% |
| Avg | 34.8% | 33.6% |
Pomeroy has made the following observations from the data he collected:
Source (http://kenpom.com/blog/index.php/weblog/entry/3_point_defense_should_not_be_defined_by_opponents_3p)
1) Three point percentage allowed is "significantly more noise than skill." However, it is not accurate to say that the defense has no impact on an opponent's three point percentage. It is just that the impact is very limited.
2) "When someone discusses three-point defense in terms of three-point percentage, they might as well make the leap to discuss free-throw defense in similar terms. Teams have much more control over how many three's their opponents shoot than how many they make."
3) "Both free-throw defense and three-point defense exist, but it's much better measured in the amount of shots taken and not in the noisy world of the percentage of shots an opponent makes."
Some of the thoughts I have collected that have influenced my thinking on defending three point shots are:
1) Dick Bennett's belief that over the course of a game, you can only do two of these three things consistently well– 1) Deny 2) Help 3) Recover. His belief was that if you deny and help, it is difficult to recover to three point shooters. If you want to be able to recover to shooters, you can't start out in a total denial, but rather in gaps ready to help, then recover.
2) Statistical research has also shown that shooting percentage on challenged shots is lower than shots that are not challenged. Most teams work to get open three point attempts that are not able to be challenged. If we can be in position to recover to shooters (makers) to be able to make an impactful challenge, then we are likely to discourage an attempt in most cases.
3) Like anything else, to do it consistently well in games, it has to be a repeated emphasis in practice. Here is a link to a drill to work on taking away three point shots: 4 on 3 No Threes
4) Teams have the best effective field-goal percentage on shots in the restricted area and on three point shots. If it is difficult to affect three point percentage, we should work on taking away three point shots and forcing two point jump shots.