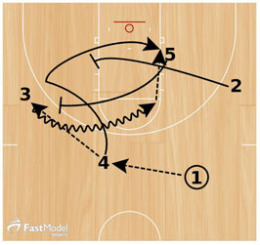 These man to man quick hitters used by Wichita State men's basketball coach Gregg Marshall are posted in the FastModel Sports Basketball Plays and Drills Library The site has thousands of drills and plays that have been submitted by basketball coaches from around the world.
You can also find out more about their Play Diagramming software by clicking this link: FastDraw
I hope you can find a cut or action to apply within your offensive system.
The 3 plays was submitted by Kyle Gilreath. Kyle is a former undergraduate manager and graduate assistant at the University of Florida. He is currently an assistant coach at Fort Myers High School in Florida.
These plays are from Wichita State's Quick series. Every dead ball or timeout, Coach Marshall gives his players a "1st Play" and "2nd Play" to run in the upcoming segments.
Quick 1
1 passed to 4 who passed to 3.
4 sprinted into a side pick & roll which he SLIPPED.
At the time 4 slipped 5 set the pick for 3 to use.
2 cut through and screened 4 into a post-up.

Quick 2

You can run this for a Quick 3 point shot.
4 cuts over top of screen from 5.
2 pops out and 1 passes to 2.
5 steps out to set a side pick & roll or 2.
2 turns down the pick and attacks the rim.
5 then screens 1 for a throw back option.
Quick 3
Wichita State frequented this play last year in the 2013 Men's Final Four. The first option is to hit 3 cutting off the post for a lay-up. If he isn't open, 5 steps out for a middle pick & roll and replace for 1.
3 received a dribble hand-off from 2.
3 dribbled up and passed to 1 and then sprinted off a cut from 5 to the rim.
5 then set a middle pick & roll for 1.
1 came off and passed to 2 who looked to feed a rolling 5 in the post.
3 replaced 5 above the 3 point arc.