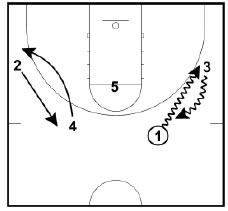 This play is from an older Arizona Basketball Newsletter..
This play is designed to be run against a man to man defense. It features three opportunities to get the ball inside.
If you are interested in subscribing to the Arizona newsletter, email your
email me your
1) name
2 School/Team
3) Coaching position
1 dribble hadoffs to 3. 3 sprints the ball toward the inital set. 4 and 2 interchange.
3 passes to 2, 5 backscreens for 3. 2 looks for 3. If that is not there, 3 clears to wide corner.
5 sprints into a ballscreen for 2. 5 rolls to the rim. 4 comes high to the opposite elbow.
If 5 is not open on the roll, 2 passes to 4 and 4 then looks for 5 on a duck in.