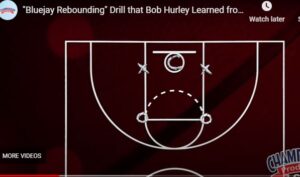 This video is with Bob Hurley explaining an offensive rebounding drill that he saw Dana Altman use when he coached at Creighton
You can certainly change the drill to fit your needs.
You will need to be on a network that allows you to access You Tube to view the video.
Click the play arrow to view the video.
There is narration with the video, so please make sure that your sound is on.
You can find out more about the Championship Productions video that this clip is from at this link: Coaching Basketball the Bob Hurley Way.
The video with Coach is available in both DVD and online format.
Click the play arrow to start the video.