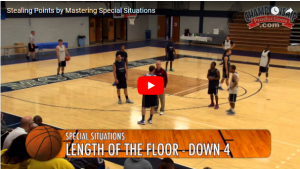 Two ideas for special situations from Phil Martelli of St. Joseph's.
Whether or not you like or agree with the concepts, I hope it stimulates you to think about, plan for, and practice end of game short clock situations that you need to prepare for.
The first situation is an idea for putting two defenders
There are no tactics that work every time and for every team. Desperation strategies fail more often than they succeed, but I have seen enough well coached teams pull out wins to know that it is worth the time to be prepared. I have also seen unprepared teams give away games that they should have won. At this point in the season when you are cutting back on the amount of time that you spend running and jumping in practice, it is a good time to focus on the mental aspects such as Rehearsing End of Game Situations.
If you are interested in finding out more about the DVD that the video sample came from, click here:
Stealing Points by Mastering Special Situations – Basketball — Championship Productions, Inc.
Make sure your sound is on as you watch.
The video is a You Tube video.
Click the video to start the presentation.