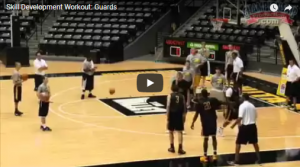 This is a 4 minute video of Coach Gregg Marshall going through a series that they use to work on their wings players skills.
This is a YouTube video, so you will need to have permission to view YouTube videos.
Make sure your sound is on as you watch.
If you are interested in learning more about the entire DVD that this sample came from, click this link Wichita State Skill Development Workout: Guards.
The video is 4 minutes and 24 seconds. Click the play arrow to see the video.
Make sure your sound is on.