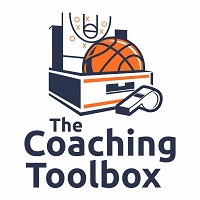 This is the second part of Kevin Eastman's Coaching points. Kevin is the LA Clippers VP of Basketball Operations, former NBA Assistant and D1 Head Coach Coach Kevin Eastman. Many of the notes deal with post play.
Here is a link to the first: Eastman Part 1
I received this collection of coaching points that have been tweeted by LA Clippers Assistant VP of Basketball Operations Kevin Eastman from Phil Beckner. Coach Beckner is now an assistant at Nebraska.
I also have a sample five minute video of Coach Eastman discussing his views on skill development. Click this link to see it.
If interested, you can follow Coach Eastman on Twitter @kevineastman
********
The best in the NBA have a laser like focus & commitment to winning that also carries over to their off season improvement-it's very serious
Skill development is a process-the player & coach have to be committed to it-both need focus & enthusiasm the entire way-development takes time
The ultimate team is a group of self motivated players that turns into a player coached team; with the structure & guidance from the staff
You get new jobs because of who people think you are; you keep that job because of who you really are; make sure you are as prepared as you can be.
Success is a process; a winning season is a process; winning teams do not get bored with the process; it's long & requires disciplined focus
Proper form and a strong work ethic plus preparation and repetition is the formula that makes a great shooter
Being the best gets harder as time goes on so the special ones continue to work on their game. Working at your game at every opportunity is what makes a player great
Champions do not become champions on the court. They become recognized on the court.  They become champions because of their daily routine and commitment to excellence. Players do not decide their future; they decide their habits and their habits decide their future!
Being the best requires 100's of sacrifices the public will never see-that's why players who r in for the limelight will never be successful
It's not easy being one of the best in a given field; it does require hard work and sacrifice; you have to earn "best"; earn "championships"
When a strong purpose teams up with great passion there's no telling how far a group or individual can go!
Success does not come to those who merely have great dreams. Success comes to those who have great dreams and who follow through on them
Also keep in mind that we are not God's gift 2 basketball; rather basketball is God's gift 2 you; we are not entitled 2 this job-keep earning it
Practice habits become your game habits-your players have to be consistent w/ this if want to win-there are no "on/off switches with the best teams
Great way for players to learn about the "next level" is to listen to their current coaches & read about what players do at that next level-
All coaches – especially assistants – must be on a constant journey to learn and improve; do not allow yourself to stand still! Take action!
You can't expect to be great if you are a part time player. Are you a 9am-5pm player or a 5am-9pm player? Guess which Kobe and LeBron are?
The only important shot is the next one; because no matter how hard you try, that is the only one you can still have an effect on!
Post players need to understand that upon catch-many times-it's best to "pause for poise" before making a move; let the area clear & read 1st
As a coach it is important to hold yourself every bit as accountable as you hold your players; what can you do better? How can you help more?
Voices & choices; who are u listening to? These are your choices that will have an impact on your present & future; get around people who stretch you
It takes coaches many years to become experts on basketball strategies and techniques, but we expect players to master these right away?
The best way to lead is by example; players see the actions & actions often do speak louder than words; what you do will have a greater impact!
The best players do their jobs & most importantly do their jobs completely! They understand the value of executing every part of their role
Passion can overcome many shortcomings one may have on their job; but continuing to have the passion for improvement of them is most important
What makes one person's career seem to advance further than anothers? You have to become so valuable that it's hard not to hire you!
You advance in your career by how thorough you know and understand your craft and who you associate with; associate with people who challenge you!
"A little more" often produces a lot more; a little more focus; a little more effort; a little more sacrifice; doing a "little more"=winning.