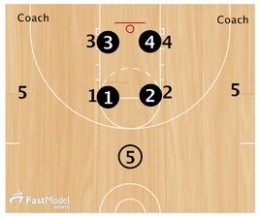 Diagrams created with FastDraw

Editor's note from Brian: You might want to start out with one or two minutes rather than 4 minutes and have your players build up to 4 minutes. Especially for younger teams.
The drill was contributed by Coach Greg White. He had these comments about the drill:
One of my favorite drills is The Inferno. It immediately raises the intensity level or shows the lack of it.
What you'll need: 3 Passers, 4 Offensive players, 4 Defensive players, 1 Basketball
Inferno Toughness Drill
Players begin on the elbows and blocks. This drill is for 8 minutes. The team's roles will switch at the 4 minute mark. There are no substitutions for the 8 involved. When the ball is at the top, the offense down screens. When the ball is on the wing, players screen across.
To keep the drill competitive, and it won't take much, use one of the following scoring systems:
Each catch = 5 defensive pushups (5 keeps the speed going plus a good screening group will average 20 catches in 4 minutes)
Each catch = 1 pt for elbow catch, 2pts for catch on the block. Keep track and at the end of 8 minutes losing team has a reminder drill.
Each catch = live four on four. Offense gets whatever shot they score, Defense gets 2 for a stop, 3 for a charge, etc..
Offensive Players Start on on Elbows and Blocks.
This is an 8 minute drill: Switch Offense and Defense at 4 minute mark. No Substitutions!
OFFENSE RULES: MUST CATCH ON ELBOW OR BLOCK
DEFENSE: Don't Let The Offense Catch on the Block or Elbow
You decide how to make it competitive. You can go live on the catch. Stop on the catch-keep score for catches or defense 5 pushups for every catch.
When the Ball is up top, Offensive Players down screen.
If passer can't get a pass to either elbow, he passes the ball to the next passer to continue the drill.
When the Ball is on the wing, players screen away from the ball
At the 4 minute mark, switch sides.
DO NOT SUB IN FOR THE 8 PLAYERS IN THE "INFERNO"