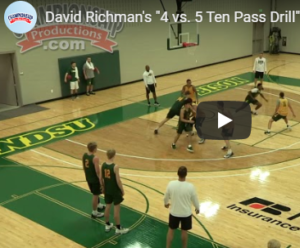 This overload drill pits 4 offense vs. 5 defense and requires the offense to complete 10 passes in the operating area.
If there is a turnover, the team starts over at 0 passes.
The coach demonstrating the drill is Dave Richman of North Dakota State.
Take the concept and change the rules and expectations to make it your own and fit what you are working to accomplish.
You will need to be on a network that allows you to access YouTube to view the video.
Click the play arrow to view the video.
There is narration with the video, so please make sure that your sound is on.
You can find out more about the Championship Productions video that this clip is from at this link: Open Practice: Offense & Skill Development
The video with Coach is available in both DVD and online format.