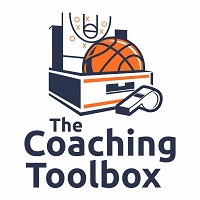 These drills are from the July Arizona Newsletter.
There is a link at the end of this post if you are interested in downloading the complete newsletter.
I hope this gives you a thought or two to add a drill for the upcoming season, or to find a way to improve your versions of these drills.
Practice Drills of the Month
Wildcat Money Ball — 2 players 1 ball
Goals are 11 in 1 minute, 22 in 2 minutes, 33 in 3 minutes
Start with a drive and kick worth 3 pts
Same shooter takes 4 shots in a row
Shots 2-4 are worth 1 pt each
Last shot is from 15 ft.
Switch shooters and repeat
Close-out 3 man weave
2 passes with the 3 pass a skip across with
a close-out coming from middle defender
Man who skipped it becomes help side defender
Live 1 on 2 after the skip pass
Drill going live at both ends
Olympic Shooting — 4 min (5 balls)
3 players on court with two passers on each baseline
Start with pass to wing, back to middle,opposite wing for lay-up
No dribble before the lay-up
Two players left shoot jump shots, receiving passes from baseline
Wing Shooters become baseline passers and lay-up man continues in drill with the original baseline passers
Drill counts 2's and 3's
Green Bay Transition
3 on 3 full court with two outlets out of bounds on each side
Whoever gets the defensive rebound outlets and runs in transition with the two outlet guys
Continuous drill with two teams
Red vs. Blue (keep score)
3 on 2
Wings run wide, point runs down middle (w/ball)
Wings cut toward basket at hash mark
Point passes to a cutter (best shooter)
Shooter has 3 options
Shoot off of 1,2 step
Shot fake, 1 dribble pull up
Pass back to cutting guard through the middle
Wing who does not receive 1 pass boxes out top defender right away (slice)
No wing to wing passes!
Here is a link to download the entire July Newsletter:  Arizona Newsletter
The Coaching Toolbox has hundreds of resources for basketball coaching including basketball practice, basketball plays, basketball drills, basketball quotes, basketball workouts, basketball poems, and more!