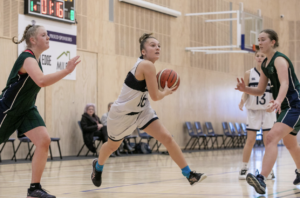 The best teams set the standard in the competition—Crvena Zvezda are one of them. Here's why this leader of the Serbia and Adriatic region introduced video analysis.
Learn how Hudl Focus and its integration with the Hudl online platform is providing a full-service of analysis to a leading school in the country.
For Ben Eves, St Andrew's College Teacher in Charge of Basketball, there is a very clear roadmap as to where he wants the program to be in terms of success.
"My vision for the basketball program is that we're aiming to be the best co-educational school in New Zealand," said Eves. "We have a flourishing boys and girls basketball program where we have high participation rates, high amounts of progress for the students and obviously having results that back that up as well."
Eves goes on to explain how technology clearly ties in closely with this overall roadmap for success.
"Technology has already become beneficial in getting feedback to the players and back to the coaches, particularly from breaking down game footage to see where deficiencies are and what we need to work on," explained Eves. "It's been massive having our filming camera already built in on site so that we can get footage straight back after the games, and this makes our jobs a little bit easier when it comes to breaking down games."
Hudl Focus is the tool St Andrew's have chosen to amplify and streamline their basketball analysis. Hudl Focus records, uploads and livestreams games automatically, tracking game action in live match and practice environments.
Focus has allowed Eves and his coaching staff the opportunity to improve their video capture and analysis workflow from manual, to automatic—a huge time saver for the team.
"Previously when we were breaking down film, we had a little camcorder on the sideline which was manned by a cameraman," said Eves. "We then used our Hudl account, but first we had to take the film out of the camera, upload the footage to a computer, then upload to Hudl, and obviously execute the film breakdown from there." 
An example of the view provided by the Hudl Focus camera.
"Whereas now we have cut two of those steps out with Focus, meaning we no longer need a cameraman and we have the footage on Hudl automatically already after the game is finished. After our post-game team talk, about half an hour to 45 minutes, the footage is there and ready to look at directly after the game. So it's been a big time saver in that regard."
Focus has livestreaming capabilities with your choice of platforms—St Andrew's use YouTube—and this has been a key asset in allowing supporters the chance to see their team in action while fans are not allowed to watch in person.
"Focus has been massive in having something where we can stream out content, and obviously being in a COVID year, it's been fantastic for parents to still be able to see their sons and daughters play on a regular basis," said Eves. "As an addition to the coaches being able to analyze footage, we also have families still being able to interact with the program from a distance. It's made them feel more connected to the basketball program even though they couldn't be physically there supporting their kids."
Recently St Andrew's used their YouTube channel linked with Focus to stream a tournament they hosted. 24 games were streamed over a three day period. This was a seamless process for Eves and his team.
"Focus livestreaming is incredibly quick, in terms of getting the actual games preloaded, it's just a matter of scheduling it and essentially pushing a switch to start the stream to YouTube," said Eves. "Once the YouTube platform is ready, it's just pushing one button and it's automatically pushed out to the wider community. The video quality itself has been very good and we've heard comments from parents that they can track the action effectively while watching, which shows the accuracy of the camera."
Although there are incredible benefits to having live games accessible across the country and the globe, Eves recognises that having highlights/lowlights available at the click of a button opens up some potentially challenging implications. He's working closely with the students, parents, school leadership, and Hudl to ensure that the welfare of their rangatahi (children) remains our number one priority.
Focus allows not only games to be analyzed, but also training scenarios, with a multitude of statistics that can be derived through the automatically provided footage to the Hudl online platform.
"We have got an incredible assistant coach who actually uses Hudl as part of his sports coaching degree and he pumps out a whole pile of stats," said Eves. "Some are the bog standard ones where you've got plus/minuses, impact on court and shooting percentage charts. But now, the good thing is with the Focus camera and the linked Hudl account is that we can create advanced stats, such as which areas of the court we are getting high percentage shots from and where our deficiencies are in terms of our shooting zones. There's obviously the basics as well like turnovers and fouls, what we would call 'the controllables', these are going to be accessible through any video platform, but the Focus system makes the whole process much easier." 
Opposition analysis is also a key facet that has now improved the players' ability to analyze their upcoming challenges.
"The students get access to a whole range of stats, and then from that point onwards they get to focus on how they're approaching the next game," said Eves. "We use our Hudl online account for breaking down game film of the opposition, so we will upload videos from the other schools and get the players to watch segments on what their offense looks like and how we can take away some of their primary threats. The whole Hudl platform allows us to deliver a real 'us vs them' analysis, prior to us taking on the next team."
Focus is driving basketball forward at St Andrew's and now the technology is beginning to be implemented in additional sporting codes as well as the school's physical education department.
"Obviously basketball is taking the lead in using Focus effectively within our sporting program, but after this initial success we have now started using it across five different sports within our school," said Eves. "For example we can use the camera for netball, volleyball and also physical education. 
"In general, Focus cuts out those couple of time consuming steps in the video process. It records high quality video and is quite easy to store, so we are trying to utilize it across as many sporting codes and platforms as possible."
Record, upload, livestream—all automatically. Learn more about Hudl Focus.