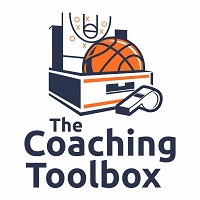 This drill was submitted to the FastModel Sports Basketball Plays and Drills Library by Tim Springer, Girls Varsity Basketball Coach at Castle Hills First Baptist School.
The site has thousands of drills and plays that have been submitted by basketball coaches from around the world.
You can also find out more about FastModel Play Diagramming software by clicking this link: Diagrams created with FastDraw
I hope that you can use this or add some more defensive wrinkles to include some defense and transition to your spring and summer "Improvement Season" workouts. You could also include 10 or 15 seconds of imaginary defense where the player has to simulate defensive positioning sliding, helping, etc… before transitioning to offense.
Great drill to get players reps in different defensive situations and then transition into offense.
Players passes to coach and closes out.
Coach passes to corner coach and player drops into help.
Coach drives and player walls up.
Coach throws ball down court for player to chase down and score.
Progression: 2 player break if you have a second player involved in the workout.
Progression: Add a defender for a 2 on 1 situation if you have a third player in the workout.