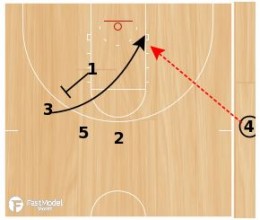 A good play if you need a basket with little time left on the shot clock.
Northern Iowa ran this against UNC early in the 2015-16 season and got a good look for a three-pointer with 1 second left on the shot clock.
It has three progressions. Posted by Lucas Shapiro.
This play was posted in the FastModel Sports Basketball Plays and Drills Library by Kyle Gilreath, Head Boys Basketball Coach at Astronaut (Florida) High School. Kyle previously served for five seasons as an undergraduate manager and graduate assistant for Billy Donovan at Florida.
You can also find out more about FastModel Play Diagramming software by clicking this link: FastDraw
You can get any 2 of our eBooks for $25 at this link: Coaching Toolbox/HoopScoop eBook Bundles
If you have any questions or are interested in a book that isn't on the list, email me at [email protected] or call/text me at 765-366-9673
Elbow Stagger Flare SLOB
First look is to 3 curling off the screen 1 sets at the elbow.
If 3 isn't open, 1 comes off a staggered screen from 2 and 5.
If the first 2 options aren't open, 5 sets a flare screen for 2.
You can get any 2 of our eBooks for $25 at this link: Coaching Toolbox/HoopScoop eBook Bundles
If you have any questions or are interested in a book that isn't on the list, email me at [email protected] or call/text me at 765-366-9673