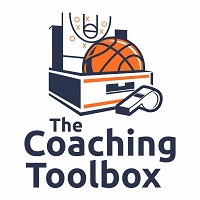 By Greg White,
When Jay Bilas wrote his article on toughness it brought to light what is in my opinion the greatest trait of a player. More so than that it changed the way I coach and what I want a program built on.
To me the three most important traits for a team are toughness, unselfishness, and relentlessness. For a team to be truly unselfish and relentless they have to be tough. Toughness allows players to achieve great things. Coach Tom Izzo said it best. "Players play, Tough Players win."
I don't think toughness can be taught but I do think it is learned. Let me explain that. We can all think of  "Toughness" drills that we've done or do to make our kids tough. Loose ball drills, charge drills, wall sits. Anything to force you to be tough. My question is this: Why isn't every thing we do instilling toughness? If we have to do drills to teach toughness we aren't really tough. Toughness isn't a sometime thing, it's an all the time thing. Toughness has to be evident in everything thing you do as a program.
You can't fake toughness. Let's face it. If a player can't play you can't hide that, just like you can't hide a lack of toughness. Basketball players don't have the luxury of a helmet to add to their "character" as a player.
Basketball is raw. Every expression is visible to everyone. Toughness isn't a look, it is an ability. You are either tough or not. There are plays where the presence and absence of toughness are evident but if you are creating a culture of toughness you don't wait for 50/50 ball or someone taking a charge. You look for and instill toughness in every drill, every day and in every player. Here are the 3 points I believe lead to a Culture of Toughness.
#1 Without Fear and With Urgency
Toughness only knows the boundaries set by oneself. A tough player has a willingness to compete without fear of failure and sometimes without fear of of injury. Tough players do the dirty work. Loose balls, take charges, block out every time. They play with an urgency that this play is the most important of the game. These are all coachable but more importantly adaptable to any player. If this type of play is the norm you stop looking for signs of toughness and see the players not producing. More importantly , it becomes evident to their teammates who isn't willing to sacrifice.
#2 Everyday Guys
Guys that do their jobs everyday are extremely tough. These are the guys succeeding in class, in practice and in the classroom.
They don't take days off. They don't take plays off. Sadly, this is a dying breed. I appreciate all the things our athletic trainers and medical team does for us but sometimes "I wonder if getting smarter made us softer?" Our athletic trainers in our program are extremely good and are as vital a part of our staff as our coaches. Trust has been developed where they can make decisions about the players without any second guessing.
Today's player is more knowledgeable about their bodies than we were in the past. If you rolled an ankle in most cases your Coach shoved your leg in a 5 gallon bucket of ice water. I've seen guys play on an ankle the size of a grapefruit rather than endure the ice to hot routine. The rule is simple. If you're hurt get up. This includes your pride. If you're injured we will help you.
Everyday guys make a Coach's life easier. They are the players you don't ever have to worry about. In the NBA, I look at Duke Alumni as everyday guys. That toughness as instilled at Duke by Coach K. You can't win without everyday guys.
#3 Away from the Ball
This is the "sign" for me if a Player is truly tough or not. Away from the ball, whether on offense or defense is where toughness is displayed. Whether you have the ball or are guarding the ball you are forced to be engaged. Everyone is watching you. It's showtime. I'd say even the guys one pass away are working hard. What about the guys "out of the play"? Are they in a stance? Talking? Cutting and screening with purpose. This is where toughness must be evident. The Block/Charge is determined here, not by the official. The play is determined in the mind of the defender. Are they engaged? Same goes for the offside offensive rebound. Away from the ball is where games are loss more often than won.
This goes for your best player especially. This player is use to having the ball and being in the spotlight. There are times when we will make sure that our opponents best on the ball defender is put in a position of help defense because it's out of his comfort zone. "No one is watching me so I can rest." Hopefully all of us are coaching off the ball defense and teaching on the ball defense.
When Toughness is the norm, Players are forced to be tough. You can't survive without being tough. It's a culture, not a drill. It becomes an adaptation. A must for survival.You can't teach a player to be tough. The player has to learn it, but most importantly need toughness to succeed in your program.