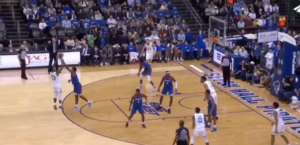 By Brendan Hall
High-major col­lege coach­es chart plen­ty of things off the ball that give them a clear­er pic­ture. Here's what to look for, and how you can track it in your program.
Click the play arrow to see the video.
The times below refer to time frames in the video.
0:40 — Turning a neg­a­tive into a positive
How do you deal with unprece­dent­ed uncer­tain­ty? Shapiro talks about how the Blue Demons are set­ting the table dur­ing COVID.
2:10 — Back to the basics
There's still a lot of body-weight train­ing your play­ers can do. Shapiro talks about how they're com­mu­ni­cat­ing work­outs to the team.
3:20 — What to do with an abbre­vi­at­ed year of film
First, Shapiro says, start by giv­ing col­lege coach­es a full game film. Let them see the whole pic­ture for themselves.
4:55 — ​"That's not glo­ri­fied in the box score"
College coach­es get thou­sands of emails and high­light reels. How are you going to stand out? The answer might lie in what Shapiro says leads to play­ing time for his freshmen.
6:05 — What coach­es look for off the ball.
How does a super­star like Romeo Weems make an imme­di­ate impact as a fresh­man? Defense, defense, defense. Shapiro breaks down the things he looks for that don't show up in the stat sheet, including:
Eliminating blow-by's (8:10)

On-ball ener­gy (11:00)

Active hands (12:00)

Box outs (13:45)

Help defense (15:55)

Ball screen defense (17:25)
19:00 — ​"I'm the best defend­er you've ever seen"
…Said no recruit to Shapiro ever. We talk about how aspir­ing col­lege ath­letes can brand them­selves dif­fer­ent­ly to stick out.
20:15 — How to chart the uncharted
Shapiro shares tips and tricks for track­ing all these qual­i­ties coach­es look for on defense.
22:50 — The most impor­tant thing play­ers can do right now?
Ballhandling. You can prac­tice it lit­er­al­ly any­where, Shapiro reminds us — even on grass.