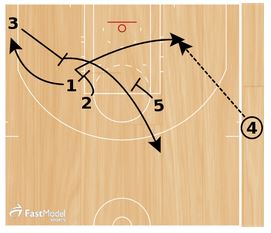 This sideline out of bands play against man to man defense is used by the San Antonio Spurs. It is posted in the FastModel Sports Basketball Plays and Drills Library The site has thousands of drills and plays that have been submitted by basketball coaches from around the world.
This is a great misdirection play that San Antonio has been running for years.
You can also find out more about FastModel Play Diagramming software by clicking this link: FastDraw
I hope you can find tweak this to fit the skills of your players and use it when you need a three point shot.
This play was submitted by Craig Craig LeVasseur who was a member of the Detroit Pistons coaching staff for 5 seasons.
Craig was responsible for video scouting of all opponents, on-court player development work, and pre-draft workout scouting and preparation.
Before working in the NBA, Craig was a Volunteer Assistant and then a Graduate Assistant at Eastern Michigan University.
3 sets a flare screen for 1.
2 and 5 screen for 3.
3 cuts to the basketball.
After screening for 3, 2 cuts to the ball side low block.
4 enters the ball to 2 on the block.
5 rescreens for 3.
2 looks to hit 3.