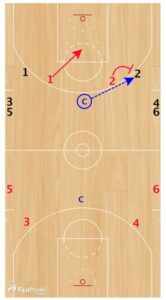 This drill was originally posted in the FastModel Sports Basketball Plays and Drills Library
The site has thousands of drills and plays that have been submitted by coaches from all levels and from all over the world.
You can also find out more about their Play Diagramming software by clicking this link: FastDraw
This drill was posted by Drew Hanlen of Pure Sweat Basketball.
Drew is an NBA Strategic Skills Coach & Consultant that has helped over 25 NBA and NBA pre-draft players.
Drew is the Head Skills Coach for Pure Sweat and has run his internationally renowned Elite Skills Clinics in over 30 states and 4 countries over the past four years.
Live 2v2 in the half-court.
The Black Team starts by attacking the Red Team. Black Team vs Red Team.
Keep track of points scored for six minutes.
Loser has punishment for every point they lose by (sprints, defensive slides, closeouts, push ups, etc)
As soon as the Black Team scores or gets stopped, one member from the Red Team has to take the ball out of bounds and inbounds to the coach at the top of the key, while the Black Team players that just played offense have to sprint back on defense.
As soon as the coach at the top of the key receives the inbounds pass, he will pass to the coach on the other side of the ten second line.
Once the second coach receives the ball, he will hit either of the new players from the Red Team (3 or 4) and it will be live 2v2 against the Black Team players that sprinted back on defense.
Drill now repeats heading in the opposite direction.
Rotation is Offense to Defense. Defense to Inbound Passer. Inbound Passer and other Teammate to back of your team lines.