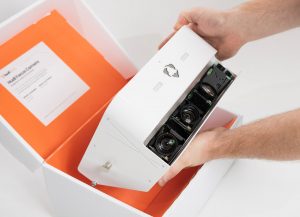 The battery died.
Someone forgot the iPad.
No one volunteered.
The student who did volunteer had some teen drama (that's caught on audio) and missed three of the most important plays.
There are a lot of barriers when it comes to capturing complete, quality video. There's a way to get better game film without the cameraman — so you can focus on coaching, not logistics.
"Hudl Focus was built to help teams win by taking out all the pain of getting video into their library," Jeff Clark, product manager said. "It was designed specifically to integrate with Hudl."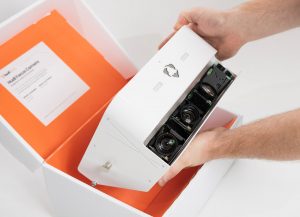 Meet your new MVP.
It's game time at Harvard-Westlake, and there's no parent, student manager, JV player or injured team member on the sidelines with a phone, tablet or camera. But that doesn't mean the game's not being recorded.
Installed 20-plus feet above the action is Hudl Focus.
Based on the volleyball match schedule entered into Hudl, the camera turns on and begins recording just before the first serve. The intelligent camera system captures an HD angle of the entire court.
"In terms of the overall installation of the mount and camera, I don't think you can make that part any more simple," Matt LaCour, Harvard-Westlake athletic director said. "This is going to make our coaches' lives easier, which is great."
The camera's sensors pan and zoom to keep up with the on-court action. It knows what a volleyball or basketball looks like and can distinguish between players and fans, so it never misses a second of the action.
Designer Josef Lang has spent all of 2018 working on the camera's look, form and feel.
"We often ask, 'does this team have Hudl?' What if we can change the question to 'does this gym have Hudl?' and level up all our teams where it all starts: with consistent, high-quality video," Lang said. "Let's make it happen automatically. While we're at it, let's make it affordable. It's been a massive effort on an incredibly condensed timeline, but our coaches' and teams' responses to the product have made it all worth it."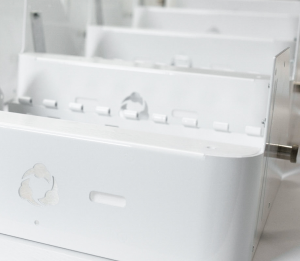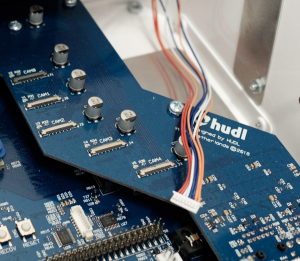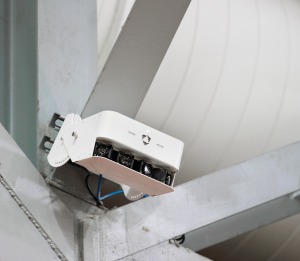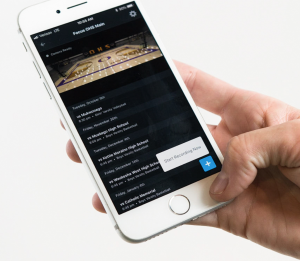 Count on it.
After the game, the Focus camera will upload the video to Harvard-Westlake's Hudl account and turn off. But during this particular game, Harvard-Westlake's internet connection is down — and stays that way for another 12 hours. Though Focus needs a working connection to upload, it doesn't need one to record. When the connection's back online, the camera turns on and automatically uploads the video.
Focus is reliable inside and out — the hardware has been dropped on concrete from five feet up to test its durability.
"We knew it would be the target of 15 year-old-boys with basketballs," Clark said. "We're confident it works when it gets hit a lot."
Focus camera systems are leased to schools on an annual basis. The camera reports vital data about its software and performance for Hudl's support team to troubleshoot before it affects an athletic director, coach or team.
Become a Focus gym.
250 high schools across the country are beta testing Hudl Focus during the 2018 volleyball and basketball seasons.
"Everyone loves it," said Kevin Reiman, athletic director at Auburn High School. "I think my cheerleading squad wants to start using it now. They do a lot of recording. I think the functionality of it will just continue to explode as we have more and more people start using it."
Hudl Focus will be widely released for the 2019 fall season. Join the waitlist here.