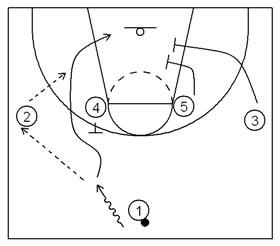 This play is run against a man to man defense and is from Creighton Burns' newsletters.
Click this link to see a listing of all of the animated plays and diagrammed plays posted on this site:
Animated Basketball Plays
If you are interested in being added to Creighton's newsletter, let me know and I will forward your information to him.
This play came from Coach Tom Izzo at Michigan State.
#1 enters the ball to #2 and runs a "rub cut" of f the back screen set by #4.
If #1 is open on the cut , #2 can get him the ball.
#5 and #3 move down to set a double screen at the back side block.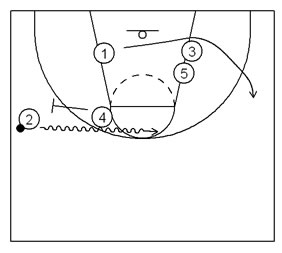 After #1 cuts past , #4 steps out and sets a ball screen for #2.
#2 drives the middle and #1 cuts around the double screen on the back side.
If #2 is open on his drive , he may have a shot in the lane.

As soon as #1 cuts past the double screen, #3 and #5 move to set a second double screen for #4.
#2 will look for #4 rolling to the rim off the double screen , or he can feed #1 on the wing.