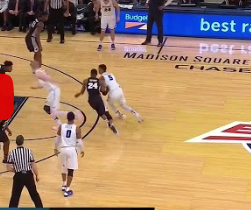 Army Men's Assistant Coach Zak Boisvert has assembled some clips of the single side bump offensive action.
Zak has an outstanding site with posts on various coaching topics at www.pickandpop.net
His YouTube channel has several videos with various types of man-to-man plays, zone sets, and inbounds plays as well as clips on various defensive coverages.
You can subscribe to receive an update when he posts a new video Zak Boisvert You Tube Channel
You can follow him on Twitter at this link: @ZakBoisvert
Click play to see the video
This is a YouTube video, so you will need to be on a server that allows YouTube access.
The Basketball HoopScoop has a digital Creighton Bluejays Basketball Playbook.
The book was assembled by Chris Filios
It features 150 pages of information and diagrams about the Creighton philosophy, half-court man to man and zone sets, baseline inbounds plays against both man to man and zone defense, and sideline inbounds plays.
You can find out more information about the digital eBook at this link: Creighton Bluejays Man to Man Quick Hits
If you are interested in adding to your Coaching Toolbox take look at what I believe is our best offer.

CLICK HERE to select from a list of more than 70 eBooks.