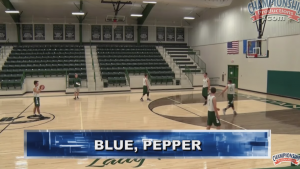 These 6 actions for attacking a zone defense are presented by Aaron Garrett, Head Coach at Amber-Pocasset (Oklahoma) High School.
There is sound with the video, so please make sure that your sound is on.
The video is hosted on YouTube, so you will need to be on a network that allows you to access that site.
The videos are from the Championship Productions You Tube Channel..
You don't have to run the plays in their entirety.
You can take parts of them and incorporate into what you do. In my opinion, all ideas you get from others should be modified to your needs.
You might have to put in some work to get something out of this and watch the video several times to be able to imagine how the zone will shift to cover these movements.
Click the play arrow to play the video with his thoughts.
If you are interested in learning more about the Championship Productions Basketball Coaching Video (available in both DVD and Instant Video Format) that this drill came from, you can click the following link: The Break Point Offense: The All-Encompassing Offensive System