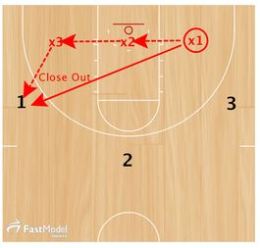 I found this 3 on 3 closeout drill on FastModel Sports Plays and Drills Library The site has thousands of drills and plays.
You can also find out more about their Play Diagramming software by clicking this link: FastDraw
The drill was diagrammed by Rich Czeslawski and attributed to Memphis's Josh Pastner.
If you are looking for more variety in your defensive drills, there are links to several other drills at the bottom of the page.
Also, as with every page on the site, I want to remind you that you can print the drill as a pdf by using the icon at the bottom of the post.
Defender x1 starts with the ball and passes to x2.
x2 passes to x3, x3 to offensive player 1 as x1 sprints to close out on 1.
x2 and x3 close out on 2 and 3, respectively, as the ball is swung around the perimeter.
On the first pass, from 1 to 2, x1 jumps to the ball.
On the second pass, from 2 to 3, x1 sprints to mid line.
The offense reverses the ball again, with defenders allowing the passes and working on positioning.
x3 jumps to ball then sprints to midline, x2 jumps to ball, x1 closes out.
Play live 3-on-3 from here with an emphasis on forcing the dribbler whichever direction your defense dictates.
Use this drill to work on the specific footwork and fundamentals taught in your defensive philosophy.